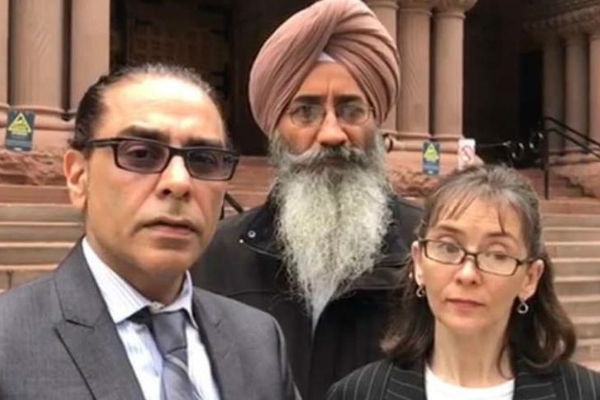 A plea by Sikhs has been dismissed by a Canadian court for the Justice of summons or to issue an arrest warrant against the retired Indian senior officer, on the charges that the officer's presence in the country had not been completely proven by the hardline activist group.
Tejinder Singh Dhillon, a retired Indian senior officer of the Central Reserve Police Force(CRPF) and was at first denied entry into Canada and then he returned to Canada through the fresh visa and a air ticket, which were provided by the High Commission in New Delhi, is learnt to have left Canada for India.
Dhillon left from the Toronto airport on Sunday night while he was scheduled to depart from the Canada on Monday.
Since Dhillon was on route to Delhi, he was unavailable for the comment on his decision to short end his stay in Canada. However, that was precipitated by the private prosecution initiated by SFJ on Friday.
On Monday, the case stood before Ontario Court of Justice in the Toronto, which did not provide either a summons or an arrest warrant, noting that presence of Dhillon in Canada had not been "sufficiently proved."
Gurpatwant Pannun, a legal advisor to SFJ, reacted to the situation and said, "It is travesty of justice that we were asked to prove Dhillon's presence in the country while (the) Indian police officer was brought back to Toronto by the (Justin) Trudeau government on Canada's expense after issuing a public apology."
Pannun also said that SFJ will appeal the decision: "We are filing an application under Access to Information Act to get the official records of Dhillon's entry and exit in Canada from CSBA (Canadian Border Services Agency)."
Earlier, SFJ has argued that the country's criminal code is allowed for "extra territorial jurisdiction to Canadian Courts to prosecute foreign officials for torture committed outside when that official is present in Canada."
While Dhillon has spent much of his career in the CRPF and also in a training capacity, SFJ has pinned its case on the period related to Dhillon's deputation to the Punjab Police and the Punjab Armed Police, filing an affidavit relating to the torture.
Earlier, Pannun alleged in a statement that, "With evidence in hand, there are reasonable and probable grounds to believe that during Dhillon's tenure as DIG Jalandhar range, Sikh nationalists were tortured by the police officials under his command for propagating Khalistan. We are seeking arrest warrants against Dhillon so he could face trial in Canada for the crime of commanding and counselling torture."
Dhillon has originally arrived into Canada on 18th May and after the harrowing experience which lasted nearly for 24 hours, in which he was denied entry into Canada and was placed on a flight back to India.
However, following the expressions of regret from both the Canadian High Commission in Delhi and also Canada's Immigration, Refugees and Citizenship department, Dhillon returned to Canada and he attended the wedding and also reception of a niece in the suburb of Toronto.
Retired Indian CRPF Officer Detained Entry In Canada
Mrudula Duddempudi.