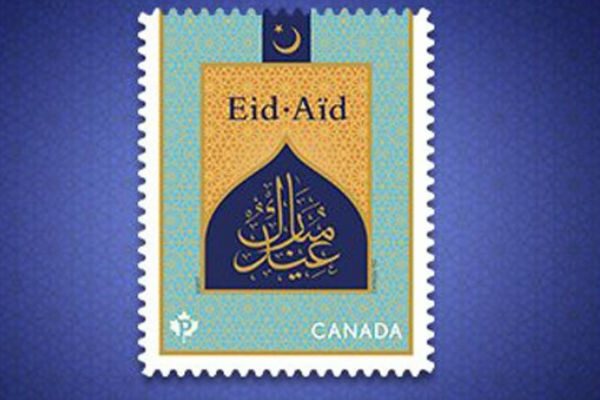 A special Eid stamp issued by the Canadian Post to recognise the two important festivals which are celebrated by Muslims, Eid-ul-Fitr and also Eid-ul-Azha.
This special gesture seeks to celebrate the Muslim community in Canada. The stamps were unveiled to the members of Muslim communities in the Montreal and also in Richmond Hill, Ontario, north of the Toronto, according to the Canadian Post press release.
The special Eid stamp is one among the three new religious stamps which the Canada Post has announced in this year to mark the Canadian diversity of faiths, customs and  also celebrations.
Earlier in the year, the Canada Post and India Post had been collaborated to issue the two stamps marking the festival Diwali, which is the Hindu festival of lights. One stamp from each of the country will be released on the same day in the fall of 2017.
Moreover, the Canada Post had also announced to issue a Hanukkah stamp in this year, recognising the celebration of Jewish faith in the month of December.
"Stamps have been a wonderful tool for us to capture our history, our heroes, our events, our accomplishments and events that have not been positive in our history but we have captured them on our stamps because history has been near and dear to Canada Post's heart," said the President and Chief Executive Officer of the Canada Post, Deepak Chopra, while addressing the ceremony.
"I often say that we are the unofficial historian of Canada."
On the design of the special Eid stamp, the Canadian Post writes in the Arabic script on the stamp which reads "Eid Mubarak," that translates to "Have a happy Eid" or "Have a blessed Eid." It appears under the pointed arch, which symbolises the division between the sacred and also worldly space in Muslim culture.
The description added that, "the stamp's deep blues and warm gold and yellows, as well as its geometric pattern, are seen in Islamic architecture. The new moon atop the stamp signifies the start of Eid."
The 28mm by 35 mm special Eid stamp has been designed by Doreen Colonello and also Erin Enns of Entro Communications and printed by the Colour Innovations.
Retired Indian CRPF Officer Detained Entry In Canada
Mrudula Duddempudi.