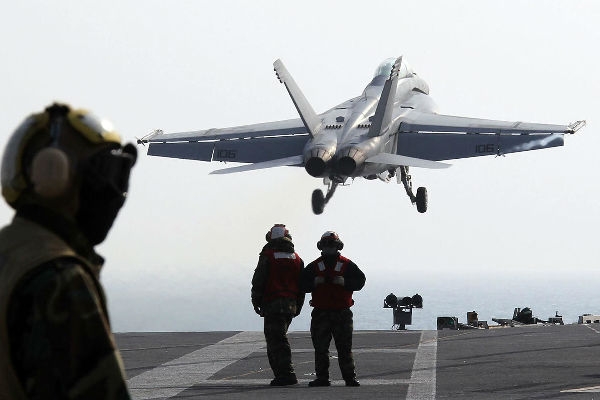 As a response to the U.S. company's trade challenge against the rival Bombardier Incorporation, the Canada's government is threatening to review defense contracts with the Boeing Company, that include the planned purchase of the Super Hornet fighter jets.
Boeing company is asking the International Trade Commission to figure out that it has suffered loss to its business in the hands of Bombardier, claiming that the Canadian company's C Series aircraft is being sold at an unfairly low prices. Boeing wants the tribunal to recommend the Commerce Department to impose the duties on Bombardier.
On the late Thursday, Foreign Minister Chrystia Freeland said that "Boeing's petition is clearly aimed at blocking Bombardier's new aircraft" from the U.S. market, and hinted at the retribution. While Freeland did not elaborate, Canada said that in November it would enter talks with the Chicago-based company to buy 18 Super Hornets.
"Canada is reviewing current military procurement that relates to Boeing. Our government will defend the interests of Bombardier, the Canadian aerospace industry, and our aerospace workers," Freeland said in a statement.
Canada to apologize for discriminating LGBT
The minister's intervention is another sign to show the growing trade tensions between Canada and the U.S. on the day President Donald Trump gave notice to the Congress that he will renegotiate the North American Free Trade Agreement.
"Boeing admits it does not compete with exports of the CS100 aircraft, so it is all the more difficult to see these allegations as legitimate, particularly with the dominance of the Boeing 737 family in the U.S. market," according to the Freeland's statement.
A Boeing spokesman called Canada as a valued customer. "Boeing consistently places substantial amounts of commercial and defense work in Canada and has a supply chain across all regions," Scott Day said by email on Thursday evening, noting that "our partnership dates back to 1919."
Bombardier has dismissed the allegations made Boeing. "Boeing doesn't even make a product that competes with the aircraft Bombardier offered in the sales campaigns that Boeing complains about," lawyer Peter Lichtenbaum told to the trade commission.
The Canadian government earlier in this year promised to provide C$372.5 million ($274 million) to the Bombardier to finance the two jet programs including the C Series. The Quebec's provincial government invested $1 billion in the jetliner during the last year.
Mrudula Duddempudi.