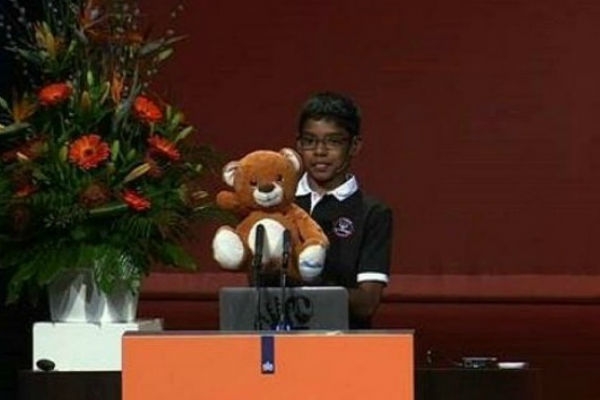 The audience who were attending a cyber security conference in Netherlands were left stunned by the exploits of an 11-year-old boy known as "cyber ninja." As the boy hacked into the Bluetooth devices of audience to remotely operate a teddy bear to demonstrate the low security standards prevalent in technology.
Indian-origin Reuben Paul, a cuber security expert and a white hacker is a 6 grader in Austin, Texas.
The boy was making an crucial point about how interconnected devices and gadgets, even smart toys can be easily "weaponized."
To prove his point in the best possible way, the young boy took a teddy bear, which was connect to the wireless internet and controlled it through Bluetooth to send and receive instructions. He then used a pocket sized computer board called 'Raspberry Pi' and plugged it into his laptop and scanned the hall for available Bluetooth devices.
Paul successfully managed to connect to several devices in the hall over their open Bluetooth credential. He even managed to break int Bluetooth enabled devices of some senior security officials in the hall.
He then proceeded to hack into his Internet-connected teddy bear using one of the Bluetooth devices to mess around with its lights and transfer a voice message from the audience through the bear.
"From airplanes to automobiles, from smart phones to smart homes, anything or any toy can be part of the" Internet of Things (IOT)," he told a mesmerized audience from the stage at the World Forum in The Hague.
This is not the first time that Paul demonstrated his ability to hack. In 2015, at the age of 9, he made waves at Ground Zero Summit, which is a meeting of cyber security experts and researchers and one of the biggest hacker conferences in the world.
Back then, Reuben Paul had said, "With great hacking skills you get power, and with great power comes great responsibility," quoting his hero, Spider-Man, and his desire to be a "good cyber-spy".
With increase in reported cyber-crime attacks like the WannaCry ransomeware that created a chaos around the world, which is a major security disaster. The world needs more talented cyber security people like Reuben Paul to secure the world from digital perils.
AMandeep