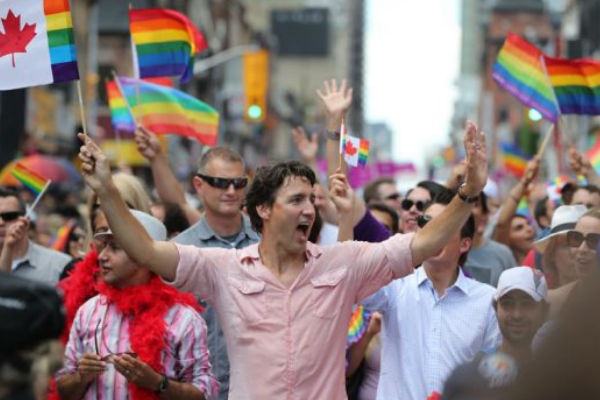 The Canadian government plans to apologize to Canadian citizens who have faced injustice and discrimination because their sexuality.
Prime Minister Justin Trudeau's special adviser on 'Lesbian Gay Bisexual Transgender' LGBT issue on Wednesday said that the federal government will acknowledge the role that legislation and policies played in the past discrimination.
"We're going to work closely with members of all facets from the LGBTQ community to make sure that our apology is comprehensive and that it takes into account a broad range of the stories and the lived experience of Canadians," Liberal Party lawmaker Randy Boissonnault.
Thousands of federal workers were fired because of their sexuality from the 1950s to the 1990s. While the same-sex relation between consenting adults was decriminalized in 1969, state employee were dismissed from the jobs because of their sexuality as part of a "national security" purge.
We must always work to fight homophobia & transphobia. I'm honoured to be recognized by @fondemergence tonight. pic.twitter.com/St8q2cc91F

— Justin Trudeau (@JustinTrudeau) May 16, 2016
During the Cold War, Canada feared that LGBT people would be vulnerable to blackmail by Soviet spies. The Royal Canadian Mounted Police (RCMP) embarked on a mission to find and remove all LGBT people from the civil services. They also developed a device to test for homosexuality known as the "fruit machine."
Gay members of the Canadian Armed Forces were also discharged for "psychopathic personality with abnormal sexuality."
Former former public servants and military members who were forced out of their jobs because of their sexuality filed a Canadian $600 million class action lawsuit, in March Michael Motala, who is one if the authors of the Orlando attack said, he is encouraged by the announcement, but is dismayed at just how long the process has been to date.
"We had hoped for at least an apology during Toronto pride [in 2016] and the prime minister flatly ignored that request without any acknowledgment of the work that we had done and marched in the parade anyway," Mr Motala said in an interview with CBC News.
PM Trudeau was widely praised for becoming the first sitting prime minister to join in a Gay Pride Parade in 2016.
"It's a shame that the government has been so mum on providing details."
"It feels like the government is just using these issues as a bit of a PR stunt and they're really not tackling things substantively," Mr Motala told the Canadian network.
AMandeep