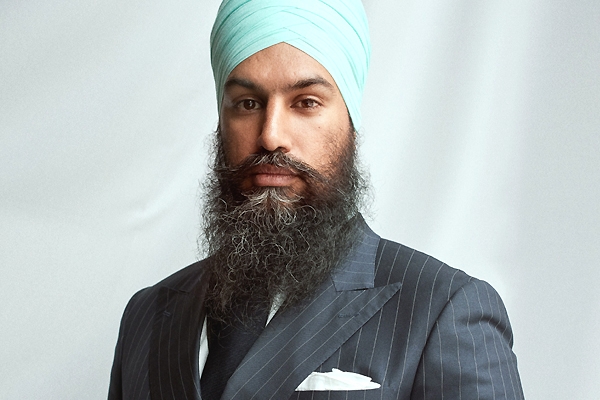 Indian-origin politician Jagmeet Singh has announced his bid for the leadership of the New Democratic Party. The move could propel him to national politics in the country.
His supporters came out on Monday at Brampton, Ontario to hear him make the announcement. The venue, which is a local restaurant called Bombay Palace, was special to the audience as it was the same venue where Singh held an election party when he first entered provincial politics. 38-year-old Singh is currently the deputy leader of the provincial NDP.
If Singh wins, he will be the first non-white and first person of Indian-origin to lead a major national party. His speech at Brampton was trilingual, as he greeted people in Punjabi, English and French. Sikhs in large numbers turned out to support him and raised slogan of 'Jo Bole so Nihaal' that resonated the venue.
Local media noted the enthusiasm of his supporters, especially those who were in their early twenties and teenagers. Singh, who is the son of immigrant parents was born in  Scarborough near Toronto. He has also acquired a reputation of being a style icon, as he featured in fashion magazines. Buzzfeed announced that he is the "most stylish politician in Canada by like a million kilometers.
In November 2013, Singh's visa to India was turned down has he spoke against the killings of Sikhs in 1984 and has described it as 'genocide.'
Winning the leadership of the left leaning NDP will not be easy. He is going to get push back from Quebec, which is one of the strongholds of the NDP, who they are anti-religious and their perception is that Singh does not know French.
Singh received endorsements from elected provincial politicians, but so far no sitting MP has backed him.
All the elected members of parliament and labor leaders are his competitors for the leadership.
If Singh is elected as the leader of NDP, he could be on the way to higher things. The New Democratic Party lags behind the ruling Liberal party and the Conservatives in Parliament, but they have made great strides in recent years.
Singh invoked the memory of the late Jack Layton on Monday, who is a former Federal leader of the NDP.
Layton led the NDP to becoming a major party by picking up a record number of seats in 2011.
Sikh community condemns Harjit Sajjans Cartoon
AMandeep