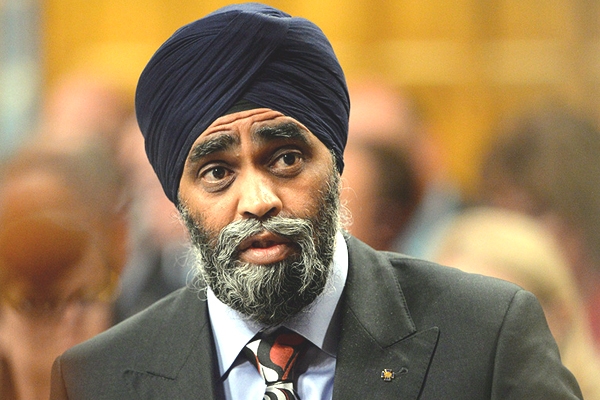 A recently published cartoon showing Defense Minister Harjit Sajjan stewing in a cauldron has sparked outrage among the Sikh community in the country as the image resembles Sikh religious figures, who were tortured by Mughal emperors.
The 46-year-old minister faced a lot of criticism and apologized publicly for overstating his role in Operation Medusa, a crucial 2006 operation that delivered a huge blow to Taliban, while speaking during his visit to India last month.
Publications such as The Edmonton Sun and Postmedia carried the controversial cartoon in which Sajjan is show stewing in a cauldron with the label "lies."
Postmedia later apologized for the controversial cartoon that sparked outrage among members of Alberta's Sikh community. The caricature was offensive because it resembled images of historic Sikh Gurus (Teachers) who were tortured by the Mughal Empire in the 16th century.
The member of the executive committee of Gurdwara Siri Guru Singh Sabha, Harpreet Gill said: "I was really disgusted and then I kind of felt sad as well that a prominent news outlet in the country would do so, and would play with the religious sensitivities of the community, an integral part of the society here in Canada."
The cartoon bears a "striking resemblance" to the 5th Sikh Guru Arjun Dev, who was forced to sit on a hot plate after speaking up for minorities.
The World Sikh Organization of Canada said the Sun's depiction of the defense minister resembled an iconic image of a martyr who was boiled to death.
Edmonton board member of the World Sikh Organization, Harmen Singh Kandola said that the image immediately reminded him of a "famous iconic image from Sikh history" in which Bhai Daval Das, a follower of the ninth guru Tegh Bahadur, was boiled alive.
He added that the cartoon has caused discomfort in the community due to its resemblance to the torture and death of Bhai Dayal Das." He explained that Das was persecuted as he refused to covert his religion.
He said that it was unlikely the cartoonist was aware of the image's cultural significance. But it is important to understand that type of context before making such statements, just in sure that they do not cause any unintended consequences.
Postmedia stated that the "cartoon was not meant to insult Sikhs. It was a pun on the minister stewing in his own lies. We're sorry if it was misinterpreted."
The cartoonist, Tim Dolighan has did not respond to the controversy yet.
AMandeep