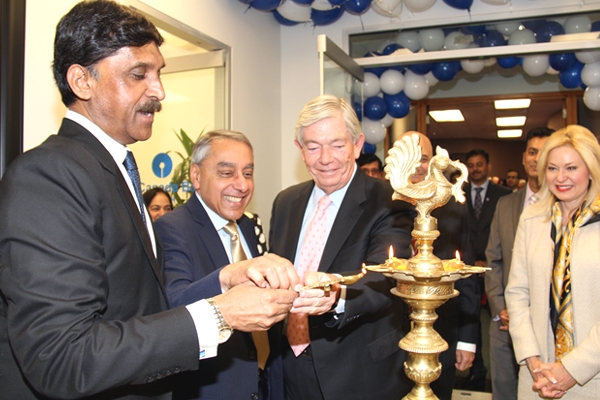 The State Bank of India (Canada Bank) in Toronto after serving the Indian community for 34 years in the city has relocated its headquarters to Mississauga.
The relocated branch is situated in the heart of Mississauga at 77 City Center Dr., The SBI Canada Bank's new head office was inaugurated at a ceremony on April 26th.
Joined by Indian Consul General Dinesh Bhatiam, SBI chairman Siddhartha Sengupta and Mississauga Mayor Bonnie Crombie, cut the ribbon to officially open the bank doors to the Indian community living in Peel and Halton regions.
"We have been in downtown Toronto for the last 34 years," said Sengupta. "It was not an easy decision to move. But having seen Mississauga, I'm really heartened. I truly believe that this move will herald a new era and a new business performance age for the bank."
The SBI Canada bank also announced a number of new and upgraded services to facilitate customers, including fast and easy remittances to India and improved online service.
"We have over 86,000 businesses in Mississauga, several Fortune 500 companies as well as over 1400 multinationals," said Crombie. "We are both honored and proud that SBI Canada Bank will now be calling Mississauga their new home."
The president and CEO of SBI Canada, Rajesh Gupta said that the bank aims to grow bigger because the Indian community continues to flourish in the country.
"We have also touched a billion on our balance sheet this month," said Gupta.
SBI Canada has branches in Toronto, Mississauga, Scarborough, Brampton, Vancouver and Surrey.
Defense Minister on Fire for Overstating his Military Record
AMandeep