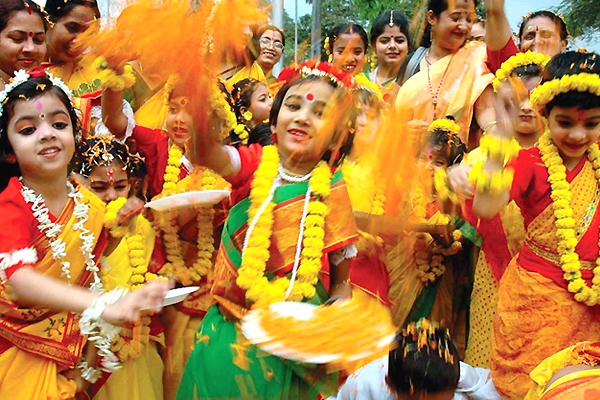 The Canadian Hindu Volunteers are organizing an event to celebrate Vasant Utsav - Nav Varsh Utsav and the festival of colors, Holi in Toronto. Don't miss! The event is scheduled to be held on Saturday, APR 30 2016, at the Radha Madhav Heritage Centre (Temple), 11575 Dixie Road, BRAMPTON, ON L6R 0B3. The program will begin at 1:00PM and will be continued till 4:00 PM.
According to organizers, the event highlights are dancing & synchronized colour throwings,  savoury choice of North Indian snacks and traditional Puja to kickstart celebrations. The organizers are inviting you all to come and have fum, entertainment and festivities.
The admission is free with pre-ordered colors (Natural Corn Starch colours will be available at nominal cost). Outside colors will not be permitted for security, safety and quality control reasons and will be strictly enforced.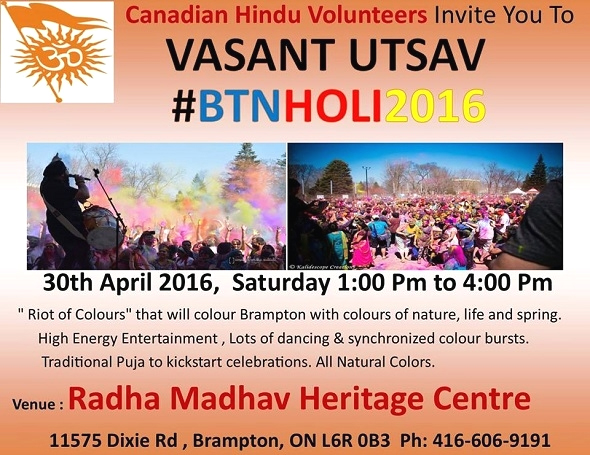 Event Details:
Name: Vasant Utsav - Nav Varsh Utsav (Holi )
Organized by: Canadian Hindu Volunteers
Venue: Radha Madhav Heritage Centre (Temple), 11575 Dixie Road, BRAMPTON, ON L6R 0B3
Date & Time : Saturday, APR 30 2016, 1:00PM
- Nandini