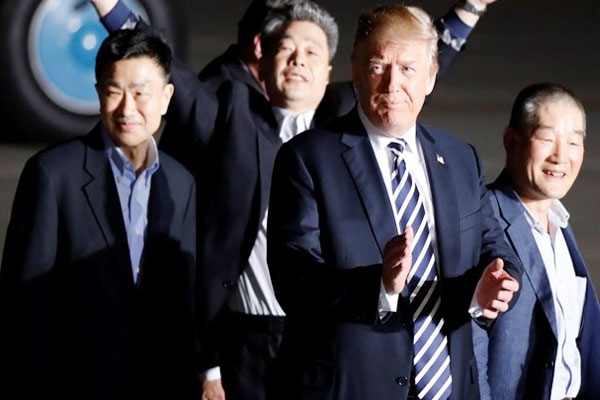 (Image source from: Nbcnews.com)
Donald Trump, President of United States early Thursday welcomed home three American political detainees freed by North Korea, arrived at the Andrews Air Force Base near Washington.
First lady Melania Trump, Vice President Mike Pence and a host of senior administration officials joined Trump to celebrate the happening at Joint Base Andrews near Washington. The men, Kim Dong Chul, Kim Hak Song and Tony Kim, had been released Wednesday amid a warming of relations between the old adversaries.
Trump called it a great honor to welcome the detainees to the U.S. and further added, "The true honor is going to be if we have a victory in getting rid of nuclear weapons." 
The White House said the trio had been freed as a gesture of goodwill ahead of the planned meeting between Mr Trump and North Korean leader Kim Jong-un.
Trump thanked North Korea's Kim Jong Un for releasing Americans and said he believes Kim wants to reach an agreement on denuclearizing the Korean peninsula. "I really think he wants to do something."
The freed prisoners in superior spirits, flashing peace signs as they emerged from the aircraft. They were joined by a translator who said "it's like a dream" and that the men were "very, very happy" to be freed. 
Later, the three men boarded a bus for Walter Reed National Military Medical Center to receive medical treatment at the Washington-area facility before being reunited with their families. 
"We would like to express our deep appreciation to the United States government, President Trump, Secretary Pompeo, and the people of the United States for bringing us home. We thank God, and all our families and friends who prayed for us and for our return. God Bless America, the greatest nation in the world," the freed men said.
Singapore has come forth as the likely host of the summit, late this month or in early June, as Trump seeks to negotiate denuclearizing of the Korean peninsula in his highest-stakes foreign policy effort yet.
By Sowmya